project
Alu Circles: turning waste into a valuable resource
---
Can cost reduction and sustainability go hand in hand? The answer is yes, as already proven in practice for residuals from drinking water production including lime pellets and ferric sludges. Aluminium based sludges are the next target, the disposal of which comes at substantial and ever-increasing cost. Alu Circles, an initiative based on PCP (Pre-Commercial Procurement) principles, will make this happen. We are calling on all aluminium sludge-producing drinking water companies to become a part of this international consortium Alu Circles.

Download here the Alu Circles info sheets >>
The issue: aluminium based sludges in drinking water plants
Aluminium based flocculants are generally used in drinking water plants treating surface water. The remaining sludge is typically sent to a disposal site, as beneficial uses are few. The sum of internal and out-of-pocket costs of disposal often exceeds 100 €/ton sludge (as is). For a water plant producing 100 million m3/year this represents a cost in the order of 100.000 €/year. The challenge is to convert this one-off use of material into a sustainable solution, including upcycling or recycling, at lower cost. And this is exactly the goal of Alu Circles.
Pre-Commercial Procurement (PCP), what it does
PCP stands for a co-creation by technology providers, water suppliers and researchers in a multi-stage process. The PCP instrument (www.eafip.eu) has been specially developed to support innovation procurement in the public sector. We  are  confident that PCP provides the basis to develop new, sustainable solutions at (near) industrial scale within a period of two-four years, achieving a cost reduction of more than 30% for the aluminium sludge issue.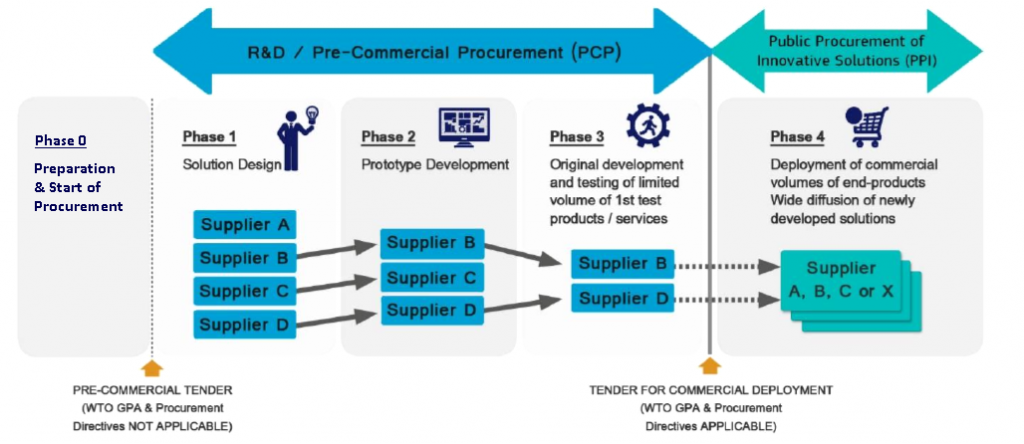 Technology providers are invited to propose their innovative solutions. Selected proposals will be awarded and co-funded for further development. A team of international experts will advise in the selection process. Examples of current PCP projects in progress pertain to supercomputers (www.prace-it.eu), or – more close by – smart meters for the water sector (www.smart-met.eu). Clearly, PCP is a young venture. We will be happy to share experiences from the PCP methodology with the professional and scientific community whilst adhering to the bounds of confidentiality.
How to join the Alu Circles initiative?
Water suppliers can join the Alu Circles initiative at two levels:
The Core Team: makes decisions concerning project strategy and related activities. We target at least 3 members; to date AquaMinerals (NL) and De Watergroep (BE) have already committed.
Participants: receive project results and gain from new value chains developed, are not directly involved in project decision making. We aim to attract 25-30 participants.
The overall budget for Alu Circles amounts to 1.5 million €, to be funded by members of the Core Team and Participants. The contributions are divided into four phases, and a go/no-go decision is implemented after each phase. The major part of the budget total  is allocated to co-fund industrial partners in the development of appropriate solutions, in additional to their own investments into their technology.
Allied Waters and Corvers Procurement Services have been designated by AquaMinerals to set up and execute the organization, economic and legal support and the communication. An independent accountant will audit the PCP project finances.
Further information
We have provided more information during a webinar on Wednesday 23 January.
Click here to watch the webinar >>
For any question you can contact Allied Waters: Nicoline Scholman or Jos Boere.
About us
Allied Waters focuses on implementing game-changing innovations in the urban water cycle. 'Driving the circular economy' is our central motto (www.alliedwaters.com). We collaborate in Collabs, public-private partnerships including  research centers, commercial-enterprises and end-users.
Corvers Procurement Services (www.corvers.nl) and partner Vtrek (www.vtrek.eu) are specialized in European public procurement law, innovation, economics, IPR and contracting. Corvers acts as an advisor and external expert for governmental bodies offering a complete range of services  from legal academic research and analysis to legal consultancy & training.
AquaMinerals is a Dutch enterprise fully dedicated to upcycling residuals from the (drinking) water sector (www.aquaminerals.com). Annually, over 200.000 Mt of residuals are given a second life in number of applications. Continuous development and innovation are key elements to establish sustainable and economically feasible valorization routes.
De Watergroep is the largest water supplier in Flanders, Belgium (www.dewatergroep.be), serving 3 million people and hundreds of companies. Further, as an integrated water cycle company De Watergroep offers products and services in the industrial water and wastewater area.